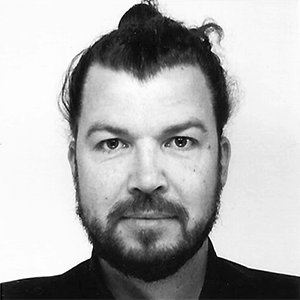 Dr.-Ing.
Andreas Brück
Lead |­ Leitung
Office Hours
by appoint­ment via e‑mail
Teaching
| | |
| --- | --- |
| 2018- | MA Visua­li­za­tion |
| 2018- | MA Project-Manage­ment |
| 2018- | BA Seminar: Profes­sional Prac­tice / ISR Summer-Talks |
| 2018- | BA Auftrags­pro­jekt / Studio |
| 2014- | MA Urban Design Methods & Tools – BLOCK 2: Design & Rese­arch by Design |
| 2012- | MIKRO­AKA­DEMIE |
| 2011- | BA Intro­duc­tion to Visua­li­za­tion and Presen­ta­tion in Urban Plan­ning |
| 2011- | BA/MA Intro­duc­tion to Geogra­phical Infor­ma­tion Systems (GIS) |
| 2011- | BA/MA – diffe­rent Projects / Studios / Summer-Schools |
Compe­ti­tions & Awards
| | |
| --- | --- |
| 2015 | AVEM­PACE Scho­l­ar­ship – Staff Scheme | EU-ME Exchange Programe |
| 2012 | Scholar in Resi­dence – Resi­dency Programe of the GOETHE-Insti­tute in coope­ra­tion with the Kultur­wis­sen­schaft­li­chen Institut Essen (KWI) und der A.M. Qattan Foun­da­tion |
| 2011 | Fellow in the DAAD spon­sored IPID-Programm "Advanced Rese­arch in Urban Systems" (ARUS) |
| 2009 | DAAD Fellow | Master-Thesis field-work |
| 2005 | DAAD Fellow | Diplom-Thesis field-work |
Talks & Work­shops
| | |
| --- | --- |
| 2019 Athens | Alter­na­tive ways of seeing and visua­li­zing. GenUrb Work­shop within the Panel: September in the city. Rhythms in the making of lives and cities. ICCG 2019 |
| 2017 Hang­zhou | EcoCom­mu­nity Inter­na­tional Urban Design Work­shop | Inten­sive Symbiotic Commu­nity |
| 2017 Lisbon | MIKRO­AKA­DEMIE – Broa­de­ning the teaching curri­culum and enhan­cing parti­ci­pa­tion and self-lear­ning. | Track 02: Plan­ning Educa­tion | 30th annual AESOP Congress |
| 2017 Lisbon | Urban Tomor­rows Revi­sited | Track 21: Urban futures: chal­lenges and vision | 30th annual AESOP Congress: SPACES OF DIALOG FOR PLACES OF DIGNITY: Foste­ring the European Dimen­sion of Plan­ning. |
| 2015 Berlin | Smart People & Urban Communing Symposium</ | Member of the main orga­ni­za­tion team at TU-Berlin. The Sympo­sium was incor­po­rated into the Make City Festival and supported by the "Dialog­platt­form" of TU-Berlin. |
| 2014 Lisbon | FUTURE CITIES – Urban Visions and their Role in Plan­ning. | Urban Futures Squa­ring Circles 2050 – Inter­na­tional Confe­rence by the Insti­tute of Social Sciences of the Univer­sity of Lisbon and Calouste Gulben­kian Foun­da­tion |
| 2013 Bangor | URBAN VISIONS 2050 | Inter­na­tional Post­gra­duate Confe­rence "Para­dise Lost? The World of 2050 | Bangor 'Visions' 2013" |
| 2013 Birzeit | Urban Systems & Future Cities | Birzeit Univer­sity |
| 2013 Ramallah | Re:Public Space | French-German Cultural Centre |
| 2012 Ramallah | Virtually Real / Really Virtual: A Reflec­tion on Parallel Reali­ties in Urban Spaces in Berlin and Ramallah. | GOETHE Insti­tute Series: "The City. The Image" |
| 2011 Port­land (OR) | Impacts of New Digital Tech­no­lo­gies on Urban Systems. | Inter­na­tional ARUS & PUARL Sympo­sium at the Univer­sity of Oregon |
| 2011 Frank­furt a.M. | Mode­ra­tion der Session "Tempo­ra­lity vs. Normalcy in Pales­ti­nian Cities, Urban Deve­lop­ment Prac­tices under Geopo­li­tical Comple­xi­ties" in the Panel "Urban Crisis" – 6. Inter­na­tional Confe­rence for Critical Geography (ICCG) |
| 2011 Dresden | Impacts of New Digital Tech­no­lo­gies on Urban Systems. | 5. Inter­na­tional Dresden Doctoral-Collo­quium "Archi­tek­tur­äs­thetik, Baukom­po­si­tion & Stadt­ge­stal­tung." |
| 2010 Darm­stadt | Valencia's Urban Deve­lop­ment between Local and Global. | EURA Confe­rence "Under­stan­ding City Dyna­mics" | Track 3 "City Choices and Stra­tegic Plan­ning." |
Publi­ca­tions
2017 – Brück A.: Urban Tomor­rows 2030 – Visions & Counter-Visions for Future Cities. Doctoral Thesis TU-Berlin
2016 – Stoll­mann, J.; Wolf, K.; Brück, A.; Frank, S.; Million, A.; Missel­witz, P.; Schlaack, J. & Schröder, C. (Eds.): Beware of Smart People! Rede­fi­ning the Smart City para­digm towards inclu­sive Urba­nism. Procee­dings of the Sympo­sium "Beware of Smart People!" (Berlin June 11th to 28th 2015).
2014 – Bundes­stif­tung Baukultur (Ed.): Baukul­tur­be­richt 2014/2015. Gebaute Lebens­räume der Zukunft – Fokus Stadt. ISBN: 978–3‑88118–535‑6. Open access: German – English – French
2014 – Million, A. & Brück, A.: Endbe­richt – Fellow­ship Inno­va­tion in der Hoch­schul­lehre. Projekt: "Inno­va­tion in der Lehre: Lernen und Lehren im Gegen­strom­ver­fahren". Erpro­bung neuer Lehr­me­thoden im Städ­te­bau­li­chen Entwurf und in der Darstel­lungs- und Karto­gra­phie­lehre unter Berück­sich­ti­gung der Medi­en­kom­pe­tenz der Studie­renden. Stif­ter­ver­band.
2014 – Brück, A. & Dietz, K.: FUTURE CITIES – Urban Visions and their Role in Plan­ning. In: Bina, O., Balula, L. & Ricci, A. (Eds.) Urban Futures Squa­ring Circles: Procee­dings, Inter­na­tional Confe­rence on Urban Futures Squa­ring Circles 2050, Insti­tute of Social Sciences (Univer­sity of Lisbon) & Calouste Gulben­kian Foun­da­tion.
2013 – Brück, A. & Uttke, A.: Sustainable Design and a Clothes­line: Low-tech vs. High-tech Solu­tions. IN: Berlin Senate Depart­ment for Urban Deve­lop­ment and the Envi­ron­ment (Ed.): The "Green Moabit" Urban District Deve­lop­ment Concept – Inter­na­tional Summer Academy 2012. 38–39
2012 – Uttke, A.; Brück, A. & Hein­rich, A.J.: Mapping Hobrecht Nekölln. In: Bezirksamt Neukölln (ed.): QUER/STRASSE. Die Schü­lerwork­shops 2012 zur Sanie­rung der Karl-Marx-Straße. Projekt­do­ku­men­ta­tion. 6–13
2012 – Brück, A.: Stadt­er­neue­rung als Sucht? Der Fall Valencia. In: Altrock, U. et.al. (eds.): Jahr­buch Stadt­er­neue­rung 2012. 40 Jahre Städ­te­bau­för­de­rung – 50 Jahre Nach­mo­derne. 313–324
2010 – Brück, A.: Valencia's Urban Deve­lop­ment between Local and Global. In: EURA Confe­rence "Under­stan­ding City Dyna­mics", Darm­stadt.
2010 – Brück, A.: Urban Stra­te­gies of Valencia. Stra­tegic Urban Plan­ning or Chaotic Urban Bonanza? Master-Thesis TU-Darm­stadt.
2007 – Brück, A.: Munsiari: Sozio­öko­no­mi­sche Verän­de­rungen und Sied­lungs­ent­wick­lung im Kumaon Hima­laya (Indien). Diplom-Thesis Uni Bonn.